Newbery 2014: They made a great choice.
If you follow Read It, Make It! on Facebook, you probably saw my announcement last week that author Kate DiCamillo won the 2014 Newbery Medal. Again. Some people have all the luck talent.
I had not yet read Flora and Ulysses: The Illuminated Adventures
, but the recent snowpocalypse gave me the chance to accomplish that goal. I first read about this novel when I was writing my previous DiCamillo post on Mercy Watson, because Mercy's website included a little promo.
From that promo, I had expected Flora and Ulysses
to be aimed at a slightly younger audience than it actually is. While the language is not exceptionally difficult, and the style (short chapters, choppy dialogue, brilliantly expressed characters) could be ideal for younger readers, the overall theme will definitely resonate more effectively with the middle-grades crowd.
The plot is best described as quirky. Flora, comic-book obsessed daughter of divorced parents, witnesses the transition of squirrel Ulysses into a superhero. The fact that this is the product of a super-powered vacuum seems almost believable. Once transformed, Flora and Ulysses develop an instant bond, and Flora becomes determined to help Ulysses realize his new-found potential.
The cast of characters, including the neighbor's precociously difficult great-nephew, is what made this book the most compelling to me. By the story's end, each character is exposed as being multifaceted, and there is something within each character that I think almost any child could find relatable. While the plot's trajectory might seem standard – problems find solutions, here – the character development is sensationally different than much of what you see in modern young adult fiction.
While DiCamillo gets the award, the book would not be what it is without the graphic and illustrative contributions of K. G. Campbell. Portions of the story are told in comic-book style, and those illustrations are key parts of the book. Those little bursts of graphic novel make the storytelling in Flora and Ulysses
unique, and usually add a bit of humor.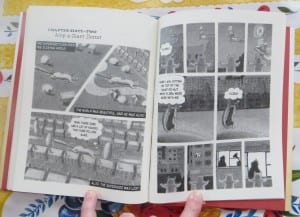 The book screams to be added to the top of the list of books that might engage reluctant readers. It would also make a great mentor text for character development and description.
I dusted off my graphic organizer skills, and came up with these, both of which would work at home or at school to help readers decipher the ways that an author can put together a characterization.
Download the Flora and Ulysses – Characterization Graphic Organizer.
The idea here is that readers will recognize that there are no clear-cut villains or heroes in this book. Instead, there are characters with both positive and negative characteristics, whose actions are not always what they might seem. By listing each type of trait and the describing how those traits combine to form a more complex character, readers can begin to synthesize their knowledge of real human behavior with that of characters in books.
Download the Flora and Ulysses Character Study Graphic Organizer.
On a more basic level, this outline lets readers describe a chosen character, or select more than one character to compare. Obviously, you could just draw the outline of a person, but for readers who might find that more challenging than the actual character analysis, it can help to have a picture to start.
Readers can list character traits and typical activities on related parts of the outline. For example, Flora's mother – an author – might be described as such on her hands, which she uses for typing. Once the traits are listed, readers could write a short character sketch or participate in a discussion about the ways that the different characters' strengths and skills came together to let them solve the problems in the novel.
 To be honest, this is the sort of book that I'd love to share with just the right student or young friend. The graphic portions of it would make it a difficult read-aloud for a whole class, but it will definitely strike a chord with many, many readers. Please let me know what happens if you find it to be a perfect match for somebody in your part of the world!
{The book links in this post are affiliate links. If you make a purchasing using them, Read It, Make It! receives a small commission. Thank you!}