Vintage Books Wednesday: Gyo Fujikawa's Mother Goose
Recently, I realized that I've been more than remiss in reading nursery rhymes to Clara. I read them daily to Bethany, but as Bethany has grown into 'older' books, Clara has gone along for the ride, which means she's definitely missed out on some things. Today's book choice is helping me remedy this very bad mothering.
Conveniently, my mother has been ruthlessly culling the children's books at her house, and I saved this one from an uncertain fate. I'm not sure what my favorite book of nursery rhymes was when I was little, but this is definitely the one that I remember most now. Gyo Fujikawa created the beautiful illustrations for this [amazon text=Mother Goose&asin=1402750641], and was ahead of her time in showing children of diverse racial backgrounds. Modern versions of other classics (like Gerda Muller's) have often been slightly altered to include non-white children, but Ms. Fujikawa did it from the start of her career as an illustrator.
I love this page for singing the alphabet song. The letters are large enough for easy pointing, but more importantly, the "and" is included. It helps explain that it's not an extra letter. Here, you can see that there is a bit of diversity among the children.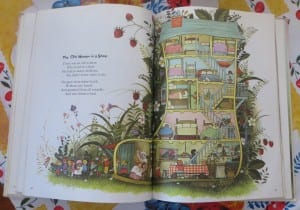 This spread shows The Old Woman in a Shoe, one of the traditional [amazon text=Mother Goose&asin=1402750641] rhymes included. Pictures like this are the ones I remember most about this book, because there were so many details to study. Other nursery rhyme collections tend just to show an old brown boot from the outside, but Fujikawa took the time to consider what it would mean for the old woman and her children to actually live inside a shoe.
Nursery rhyme books are great for the attention span of a toddler. If they want to sit, great – you can read pages and pages of rhymes. If their minds and bodies are hopping, then you can read three rhymes on three different pages and close the book without a problem. Now that I'm back in the swing with these, I feel even sillier for having neglected them.
As always, I love to know your favorites, so feel free to drop me a line and tell me about your favorite nursery rhyme or Mother Goose collection.
{The book link in this post is an affiliate link, and for once you can actually find an affordable vintage or modern copy of this book through that link. Any purchases you make using it benefit Read It, Make It! Thanks!}