How to have a happy four year old.
Bethany turned four at the beginning of the month. She had a (very) small birthday party with a few friends. It was a Mr. Rogers' Neighborhood party, because that man is a big part of our lives, as he should be. When I started looking for party inspiration, this post was really the only one I found that was about Mr. Rogers' Neighborhood, not Daniel Tiger's Neighborhood. (We love him, too, just not as much.)
Taking a cue from that awesome party (and ours was more low-key), I looked online, and discovered that the Fred Rogers Company (!!!) still exists (!!!), and they sell some fun stuff, like cups, posters, and miniature trolleys that fit on your wooden train track.
Bethany's big present was a dress, made using this tutorial, from this fabric at Spoonflower. She loved it, and it worked beautifully when the party moved to the yard and she needed to put on some jeans underneath. I would also like to add that it would never have been completed in time without the magic of the MAMA Art Collective. If you're local, drop me a line and I'll tell you more about how wonderful it is.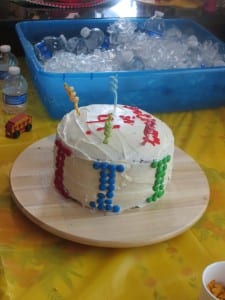 We also made a Museum-Go-Round cake, per the birthday's girl's request. Initially, I was afraid this would be a monstrous undertaking, but an IKEA lazy Susan came to the rescue. That's three layers of cake, with M&Ms in columns. Simple. We didn't go for 100% accuracy, but it was still very popular. You can also see our new trolley in the back corner.
And the hit of the party, activity wise? Feeding the fish, of course! Daddy brought home his classroom fish, Robot, and all the guests got to give him a pellet. This was a last-minute idea, but it worked out nicely. Our other activity was playing with water beads, which worked really well since we didn't have very many guests.
Secretly, I hope Clara wants a Mr. Rogers party in a year or two, in part so that she can wear the trolley dress, but also because I love it just that much.
{The links in this post are provided for your convenience, and have no financial benefit for Read It, Make It!}