31 Days: The Sweetest Stories of Fall
It's no secret to anyone who knows me that fall is my favorite season. I'd start draping pumpkins and acorns on things over Labor Day weekend if my husband would agree to it. Living in Atlanta, we don't exactly get a lot of fall to enjoy. The mornings are cooler, and the light outside definitely becomes mellower, but, usually, our leaves don't change until November, and even then, we only get a day or two of really vibrant color before things turn brown, rainy, and miserable.
So what's a fall-loving girl to do? Read a good book! Today I'm highlighting two irresistibly sweet stories about fall. These are gentle enough for very young reader-listeners, but engaging enough to hold the attention of eight and nine year olds. There's a little bit of sadness in each story, but the conclusions to both books resolve the problems to the satisfaction of more sensitive children.
Julia Rawlinson and Tiphanie Beeke's Fletcher and the Falling Leaves (also titled The Fox and the Falling Leaves in some editions) is reminiscent of David Stein's Leaves in that the main character – Fletcher the Fox – doesn't understand why the leaves are falling from his favorite tree. He struggles to put the leaves back on the tree, and then wakes one morning to find all the leaves gone but one. When even that leaf finally makes its fall to the ground, Fletcher is dejected. He takes the last leaf home, worried about what will happen next. What he finds the next day, on the book's final page, is a glorious surprise from Mother Nature. The simple paintings in this book weave together with the story to help children learn about the changing of seasons in a friendly and comforting way.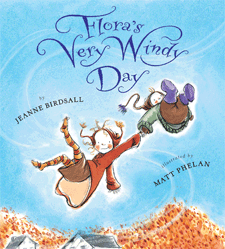 Please tell me you've read the stories in the Penderwick series by Jeanne Birdsall.  Please?  If you haven't, you're missing the best upper elementary fiction written in the last three decades. Remedy that situation immediately.
This is Jeanne Birdsall's amazing picture book Flora's Very Windy Day. Like the Penderwick books, this story explores real-life sibling relationships. Unlike the Penderwicks, it delves a bit into an imaginary world where a very strong wind can transport difficult little brothers and recalcitrant older sisters right into the air. As Flora tries to rescue her brother Crispin, the siblings encounter a variety of characters who all have ideas for Crispin that are less than ideal. Flora slowly realizes that she really does love her little brother, just in time to help him return to solid ground and enjoy an afternoon snack. Matt Phelan's illustrations perfectly capture the feeling of an overcast fall afternoon, making this a book you'll read again and again, I promise.
(Unrelated note: I met Jeanne Birdsall years ago at a conference, and she told me that she had no idea how long it would take her to finish the Penderwick series, because her publisher kept making her go to signings and conferences instead of letting her sit home and write books. I thought that was pretty hilarious. While I was glad I got to meet her, I was a little peeved that someone was keeping me from more Penderwick stories!)
If you're interested in seeing more of what we're reading this month, just click on the image below!