Three Great Novels for Making Connections
I've been on a fiction kick lately. I bought several Very Grown Up historical monographs at the most recent library book sale, and then realized that I might have been temporarily insane, because I am just not in a phase of life where that type of reading is even remotely attractive.
So, I settled in with a little collection of books written for middle schoolers, which is a more accurate reflection of my current state of mind. You should know that these just ended up on the shelf next to each other, and that I had no intention of putting them together in a little grouping until I started reading the third one and realized how beautifully they could work together.
All three of these are books set in time periods following the Civil War, but each deals with the ramifications of enslavement in some way. They are each also coming-of-age stories, with family relationships central to the plot. Back in the olden days, we used to put together text sets, and this would really make a great one if you're still doing that sort of thing. Bare minimum, you could just ask your child to read all three and then sit down and discuss them together. There's a lot to discuss!
I read The Evolution of Calpurnia Tate first. (IndieBound/Amazon
) Written by Jacqueline Kelly, this tells the story of Callie, only girl living amongst a sea of brothers on a Texas cotton plantation at the turn of the 20th century. Constantly told what she should be doing because of her gender, she finds comfort and security by following in the footsteps of her naturalist grandfather. The time span of the story is only a few months, but in that time we read about enormous growth and changes in Callie's outlook on the world at large and on the society in which she finds herself.
Readers will identify with Callie's struggle to please her parents, learn the skills required of her, and still assert her own ideas about what is interesting and worth her time. Callie finds an unlikely ally in her grandfather, but also cherishes relationships with school friends and siblings. While everything is not neatly tied up in a bow at the end of the book, I enjoyed the positivity of many of the family's interactions, even when it was obvious that Callie and her parents were basically planets in separate orbits.
Overall, I think that the emphasis on natural history would be fascinating for many kids today whose idea of science is a textbook or a YouTube video, and could quite possibly be inspiring. This book, some field guides, and a blank notebook would make a great gift for an upper elementary school student.
My one complaint with this book was that it tended a bit much toward a sense of longing for the Good Old Days before the Civil War. I'm not sure if a 4th-6th grader would pick up on that or not, but the other two books in this post would certainly overcome that emotion in a hurry.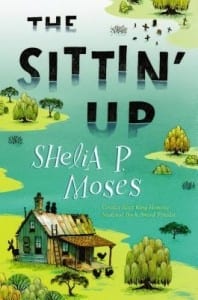 Since things had gone so well with Miss Callie, I decided to just grab the next book on the shelf. The Sittin' Up (IndieBound/Amazon
) was recommended to my husband at Little Shop of Stories, but, sadly, I had let it languish all summer.
Sheila Moses, whose work I had not read previously, writes with a really beautiful depth of language. This story is told in dialect, which might be off-putting to young readers, but the carefully developed story and characters would overcome that for most, I think. The Sittin' Up begins with the death of Mr. Bro. Wiley, a formerly-enslaved man who had lived to be 100 years old. Set in 1940, it takes place over the week following the death, and culminates in Mr. Bro. Wiley's "sittin' up" the night before he's scheduled to be buried.
The characters are many and varied, and both the African-American and White residents of the area are portrayed multi-dimensionally. The relationships between the country-dwelling and city-dwelling people are also shown to be multifaceted. From the outset of the book, a huge storm is predicted, and by the time it arrives, the reader is deeply invested in the characters' and community's response. Even the most stereotypical of the characters' relationships are cast in a different light as the community works together to recover in the days following the disaster.
Sprinkled throughout the book are the narrator's – Bean's – memories of Mr. Bro. Wiley, and the bits of wisdom that he shared with seemingly everyone with whom he ever spoke. This common wisdom serves to be a great source of strength for the Low Meadows community, and it comforts them in their time of trial.
There's enough action in this story to make it appealing to reluctant readers, and that action also makes for a great classroom read-aloud. With a little pre-reading, you could figure out exactly where to stop each day so that your students would be clamoring for more. While the setting and plot are entirely rural and agricultural, I think the overall story is timeless and would resonate with most kids in the upper-elementary and middle grades.
If you live somewhere that has been affected by flooding, you would want to be very cautious to share this, though, because the height of the flood is described in great detail, and I could easily see it being upsetting to a student who had lived through such a disaster.
The Freedom Maze (IndieBound/Amazon
) almost ended up being something I didn't read. The basic plot of the story involves time travel, in manner similar to that in Jane Yolen's classic The Devil's Arithmetic (IndieBound/Amazon
). Sophie, forced to spend the summer of 1960 on her grandmother's mouldering Louisiana sugar plantation, inadvertently travels back a century to find that her own ancestors think she is enslaved by them.
Like The Evolution of Calpurnia Tate, there is a bit of Old South mystique to the initial pages of the novel. This fades quickly, as Sophie realizes that the 'good treatment' so vaunted by her family in their personal history of enslavement is untrue and ignorant of the real immorality of the institution.
Sophie spends what seems to be months in the slave quarters, and develops relationships with her ancestors (the plantation owners) and the people they enslaved. She witnesses up-close the difficulties of plantation agriculture, and the ever-present dangers of life in the 1860s. She also learns her own power to effect change, in a startling and audacious denouement.
Sophie's return to her own time, concurrent with a surprise visit from her mother, results in a new awareness of not only the truth of her family's history, but also a desire to assert herself in her relationship with her mother and the changing world around her. Sophie's aunt realizes that 'something' has happened to her in the family's overgrown garden maze, and seems to recognize that her niece is quite different than she had been hours earlier.
Aside from the obvious supernatural element of time travel, there are also some spirits in the story that speak to Sophie from their own world. As the story progresses, it becomes apparent that Sophie's trip back in time has been allowed so that Sophie can achieve the spirits' desired goal. For this reason, the book might not be ideal for all classes and families. However, as someone who decidedly dislikes science fiction and fantasy 99% of the time, I can attest that The Freedom Maze deserves a try even from those who dislike those genres.
Give one (or all!) of these a try, and tell me what you think. While they're great for the intended age group, I think they are also a worthwhile escape for grown-ups, too.
{The book links in this post are affiliate links. If you make a purchase using them, Read It, Make It! earns a small commission. Thank you!}